Brodawel Boarding Kennels Services
Brodawel Boarding Kennels Services
LOOKING AFTER YOUR DOG
Whether your dog is here for a day or is a longer term guest, we pride ourselves on the level of human contact your dog receives while in our care. Dogs are groomed on a regular basis. Constant attention is paid to cleanliness, and we only use dog friendly, effective disinfectants.
We feed all the dogs early in the morning and again in the late afternoon; fresh water is always available. Regular exercise and breaks from their kennel and run are also offered. To put your mind at rest, we are happy to contact you by email during your dog's stay with a photo or short video and to comment on their stay. If you'd like us to do this, please be sure to let us know.
In line with the Boarding Establishment License all dogs who come to stay with us must have up to date vaccinations, have been treated for fleas and worms, and be microchipped.
DOGGY DAY CARE
With our doggy day care service your best friend can be collected in the morning and entertained for the day. He is returned to you happy, relaxed and exercised ready for a quiet evening at home!
OVERNIGHT BOARDING
Whether you have an overseas holiday booked or a family function like a wedding or funeral, we can offer home from home dog boarding for duration from one night to two weeks or more.
WASH N DRY
We offer a 'Wash n Dry' service for your dogs, so they are washed and blow dried at the end of their visit ready to return home, cleaning and furry fresh! We now also offer this to non-boarders!

'Well 1st time Ronnie & Reggie have been put into kennels we were worried but there was no need to be they were looked after as if they were their own and can not ask for more than that Sharon and I would like to thank all the staff for looking after them so well we will definitely be back knowing they will be looked after so well!'
HUW BIRDSEY

'I was very apprehensive about putting Sybil in kennels. She's a strange little beast! I took the plunge and headed to London for a few days. The daily updates I got, showed me how understanding they were of her needs and how happy she was in their care. It made my stay so relaxing know she was so well looked after. I highly recommend Brodawel Kennels.'
SHARRON DIXON

'Our 3 dogs were into the kennels and I have to say that Wayne and Jayney were fantastic and the dogs didn't want to come home - I couldn't recommend them highly enough and we have booked again already as it's great to know our dogs are so well cared for!'
MICHAEL RENNISON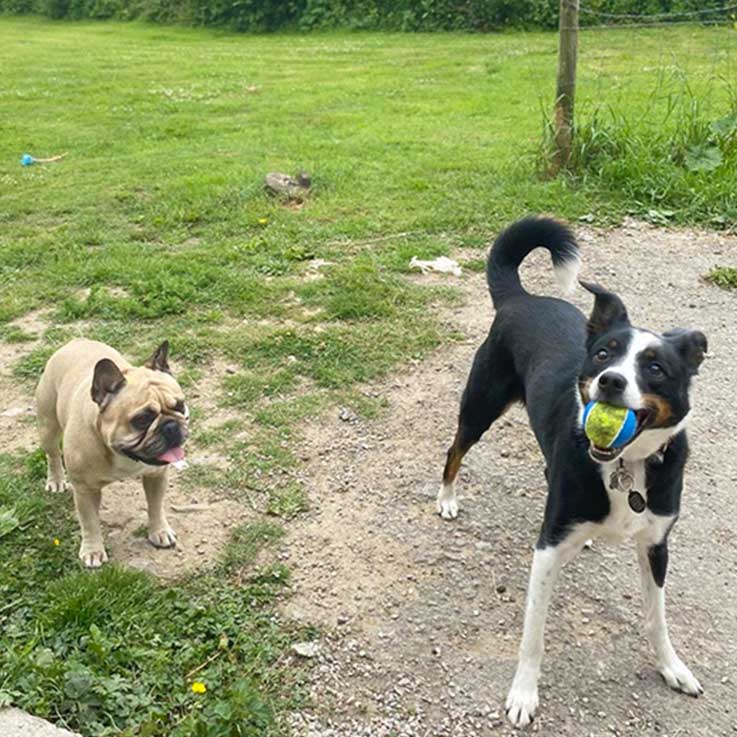 DOGGY DAY CARE
Brodawel Day Care is simply the 'Ultimate Doggy Day Out'. Our safe and secure facility in Laleston, Bridgend includes hoards of space to run around, heated rooms and much more. Come down any time to take a look for yourself!
Our mission is simple – to give each and every dog the best day possible by catering to their individual needs. We nurture your dog's physical, mental and emotional wellbeing. Whether your dog is a playful puppy, fetch addict, a lone wolf or very shy, we put all our time into ensuring everyone is having a fun, enriching time. We believe that daycare is essential for a puppy's development and dog's balanced lifestyle.
We are committed to only ever looking after a small number of dogs – never more than 10 in one day. This means that every dog gets lots of time and attention and nobody is feeling overwhelmed. We believe that dogs thrive in smaller groups which is why we set out to create a daycare where this is possible. For more information and prices, contact us today!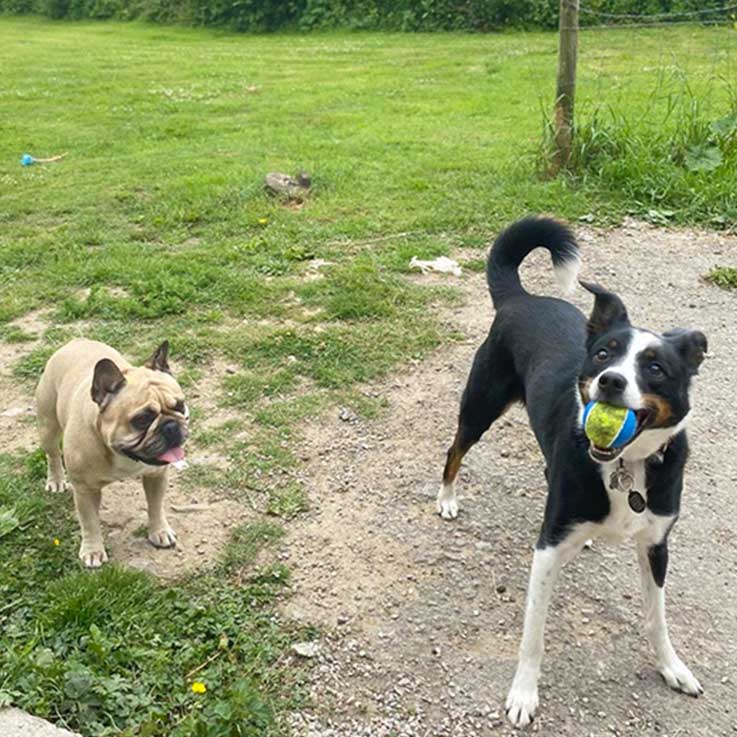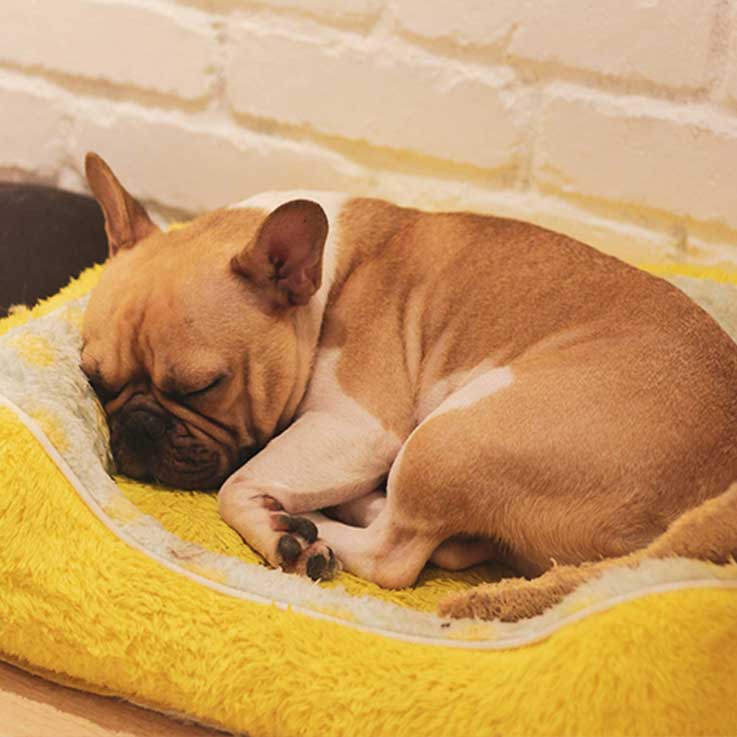 OVERNIGHT BOARDING
Our overnight boarding guests get spoilt rotten! They have heated interior rooms with raised beds and tv and classical music played at night. Our team are highly trained and dedicated to making sure your dog has the best time staying here at Brodawel. We pride ourselves on tailoring our doggy holidays to suit all ages and energy levels. Our more elderly guests have less day care time and more one on one time. We make sure that puppies get plenty of rest and enrichment too.
Many dog boarding kennels have a one size fits all attitude to canine care. We DON'T. We know that every dog is different and special in their own way and all need different amounts of exercise, enrichment and cuddles. This is why nowhere is off limits to our guests and giving love and attention is our main goal.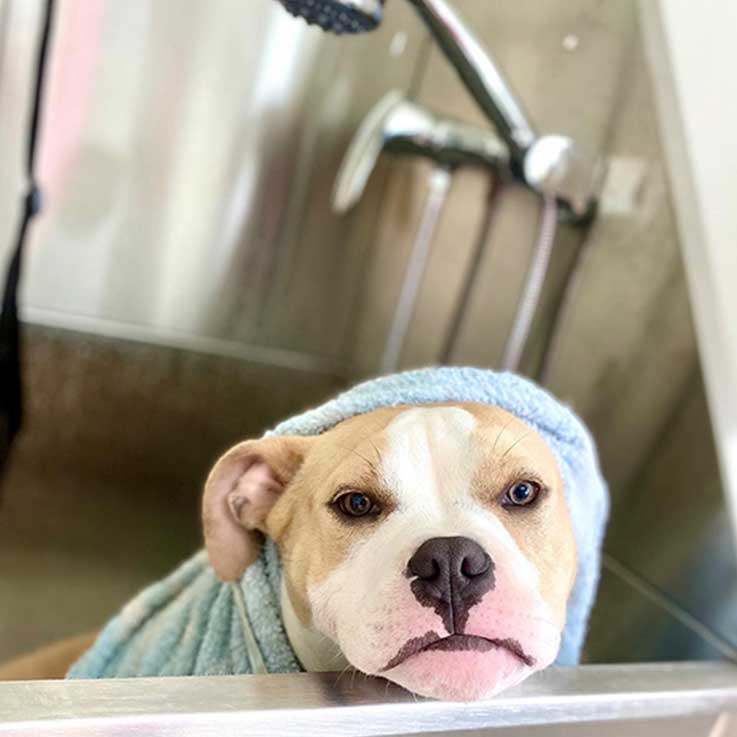 WASH N BLOWDRY
Brodawel is very excited to be able to offer Dog Grooming to our existing and new clients. The grooming will be offered either as a 'stand alone' service or as part of the usual day care that we offer. Your dog will be groomed in a safe and stress free environment with our well trained groomer. We use high quality equipment and products so that your dog will leave looking and smelling amazing and at it's best.
Boarders
Small Dog – £10
Large Dog – £15
Non Boarders
Small Dog – £15
Large Dog – £20
Nail Clipping – £5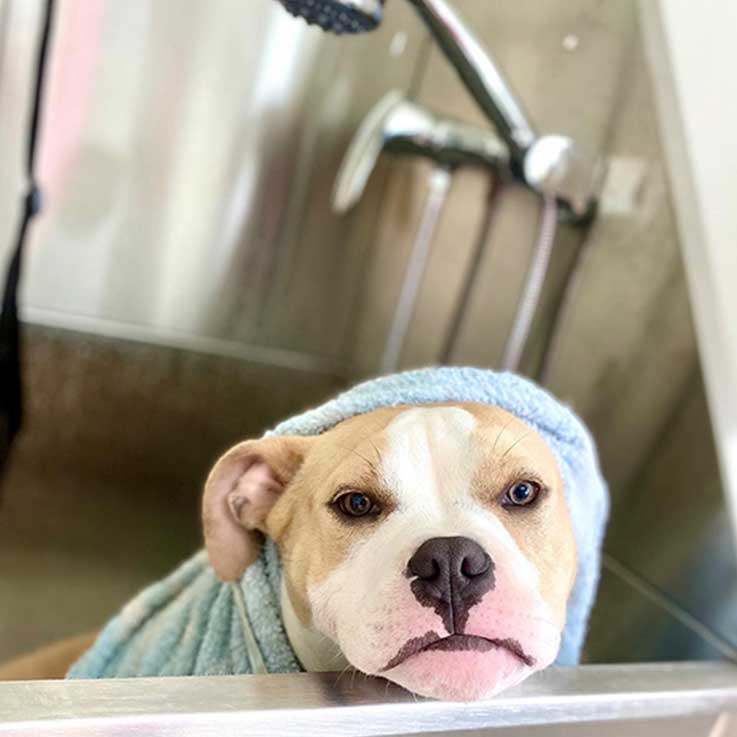 OPENING TIMES
Monday - Saturday
8.00am - 10:00am
3:00pm - 5:00pm
Sunday
8:00 am - 10:00am
Closed
Christmas Day / Boxing Day
Outside Hours By Prior
Arrangements